Having fun with Ira, Karen, and Max
December 26, 2001
While my dad was in town, we filled our days with a pretty good variety of trips. We weren't ready for the long trip up to Napa, but the Santa Cruz area is home to a few good wineries. Here we've stopped at the
Boony Doon Vineyards
tasting room. They have a very large variety of wines and I think everyone enjoyed themselves. We definitely need to head up to Napa the next time they're in town.
Another fun local destination is Capitola. They have a great little beach the kids always enjoy playing on. There are also a number of very good little restaurants. The whole crew poses for a few photos.
We get a lot of deer in our neighborhood. I couldn't resist a quick shot of a family scurrying on the hill as we come down our street.
Gabe and I spend a lot of time every weekend just wondering around the property. There's always cool new things to see. We turn over lots of rocks and wood looking for interesting creatures. I can't recall, but I think Gabe is showing off a salamander we just found.
Monica poses for a quick shot on the kitchen counter.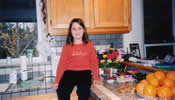 Though our property is pretty much a park all by itself, we still need to head to official parks occasionally. Here we're at one of their favorites, Skypark in
Scotts Valley
. That big swing that Gabe is using is the most fun in the area. They've even got me on the teeter totter.