Day at the Santa Cruz harbor
February 9, 2002
We usually go to the beach on the west side of the Santa Cruz
harbor
. It tends to get less of a crowd and the big concrete jacks are fun for the kids to play on. We decided today to have lunch on the east side and enjoy the beach and the harbor. Here the kids are mostly playing along the rocks and on the dredge pipe. There's a decent view of the new lighthouse at the harbor entry.
Time for burritos at the Palomar cafe on the beach. I love the big Palomar restaurant downtown, but this is good for a quick bite.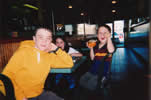 We checked out the boats for a while and this relatively new sitting area with some cool sundials. That's the
Crow's Nest
restaurant behind me, a very popular dinner destination. This is also where you go out on charter boats to catch local salmon. When Charlotte's dad would come out in the spring, we would meet here at some ungodly hour to catch the boat. We would usually go out on the Shamrock and hopefully return with our limit of salmon. That is if the sea lions didn't take them all.