SVEF Mountain Charlie Challenge Bike Ride
April 28, 2007
Today is the big day. There are around 70 of us that will be doing 100km in the mountains of Scotts Valley and out to Corralitos. It's a fantastic day and one of our biggest fundraisers for local schools. Charlotte and her
SVEF
team have been working their tails off to make sure the ride is a big success. For me, it's another chance to enjoy a beautiful ride with plenty of friends.
We've got an awesome turnout today. Everyone is itching to get rolling.
The school band is even there to get things going.
A nice shot of Charlotte's good friend Paula with someone I don't know. Charlotte will tell me who it is later. She knows everyone.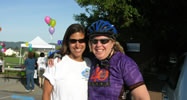 Here's the 50km group that left an hour after our group. They've got a bit of climbing ahead of them too.
Charlotte was part of the SAG support fleet. They all did a tremendous job out there. It's no easy task driving on all those windy mountain roads all day long.
Hard to tell from these photos that I just finished riding for 4 hours and probably over 6000 feet of climbing. Time to kick back to the sounds of the awesome band Wryly that's been rocking our after ride party since the very beginning.
Another awesome BBQ as usual. I think I went up 3 times this year for more food.
I loved the tent they set up this year. I had my share of sun and heat today, so it was nice to hang in the shade and catch up with everyone.
Charlotte, Paula, and Sally dole out the raffle prizes and thank everybody for making this year's fundraising ride a huge success.