Backpacking in Hetch Hetchy with Gabe
August 14, 2008
It's been a long time since Gabe and I did a backpacking trip together. School will be starting soon so there's no better time than the present. Backpacking permits for the less traveled parts of
Yosemite
are easy to get, so we're off to Hetch Hetchy. It's an area I've always wanted to visit, though doing it in August will be much hotter than I like. Gabe and I leave the house very early in hopes of getting on trail before it gets too hot. We're loaded up and on our way.
What a fantastic looking valley. It's amazing how much it looks like a smaller version of the Yosemite Valley. First step is crossing the dam.
And then it's through the tunnel. This is the coolest portion of the hike, though I'm hoping for some decent shade on the way up.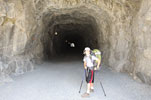 Going up is quite the understatement. It's a huge amount of work hiking up endless long switchbacks that climb out of the valley. Every bit of shade is at least a short break from the sun. The views are pretty remarkable in the glimpses I get through the sweat pouring off my forehead.
Gabe is such a trooper hanging in their so well. I feel your pain.
I thought the top of the switchbacks would be the worst of the climbing, but it turns out the whole hike is pretty much uphill. At least we got a change of scenery once we crested. I can definitely understand why fires happen up here. We started hiking around 10am and setup camp, ate, then crawled into the tent just as it was getting dark. The first day was probably around 9 miles and 3000 feet of climbing out to Laurel Lake. That had to be one of the hardest hikes ever.