Amgen Tour of California Santa Cruz
February 16, 2009
The
prologue stage
in Sacramento was pretty awesome, but today the race is coming to
Santa Cruz
! I'm pretty torn about seeing the race on the climb up Bonny Doon, but the local Peloton Club was a great way to support and get involved with the race locally. So it's off to downtown to enjoy the finish along with a ton of other people. The local bike fair was a nice change from the usual walk downtown. If only it was always like this.
The racers will be flying up this road to the finish.
The crowds have been pouring in all morning.
Meanwhile I'm enjoying our nice private tent with loads of food and drinks. I still wish I could see more of the action.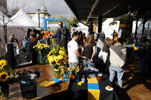 It's tough to make out, but Charlotte is right across the street from me in the middle photo.
People are all over the rooftops also.
The helicopter and the people are the first indication that the racers are almost here.
I thought this little guy was adorable, and had the right idea.

After the race, downtown was still closed to traffic and was filled with people and bikes. What a glimpse of how great it would be if downtown did this on a regular basis. It was so much fun to see bikes take over even for a short while. Thanks again to Matt and everyone that helped bring the Tour of California here to Santa Cruz. I'm really hoping next year will have Santa Cruz again, so I can try other ways to help with the effort.