Hanging with Gabe and Doug in da U.P.
July 11, 2009
Gabe is loving his new cycling cap the girls brought back from Jelly Belly. Only problem is, I love it too. You know I'll be borrowing it on rainy days for sure.
Gabe and Doug sure have a great time hanging out with each other. And there's almost nothing better than hanging out in Bootjack.
Looks like it's still kinda rough out on the lake for fishing.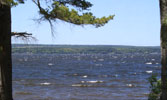 Fortunately there's plenty of fun in the cabin.
A few random shots on a trip to town. The Quincy mine is a great spot to visit. Monica got a nice photo of a very cute little girl out shopping.
Back at camp the boys are busy catching tadpoles. Driving the golf cart out to the small pond is a favorite pastime. You never know when you'll see a huge Great Dane walking on the side of the road.
A few pretty sites in grandpa's garden.